Happy Hens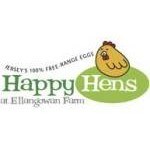 ---
Happy Hens is the oldest and largest producer of free-range eggs in Jersey. The company is based in Grouville – just inland from Seymour and Le Hurel slips – where approximately 8,000 hens produce around 6,000 eggs per day to meet the demand for locally-laid fresh eggs.
Although the free-range system is far more labour intensive - and hence more costly than other methods - the proprietor of Happy Hens, Allan McCaffrey, believes his customers appreciate that the high standards of welfare and freedom to roam make for happier hens and better tasting eggs.

Anyone buying his eggs has the guarantee that they are fresh, usually delivered within 24 hours of laying, whereas most imported eggs will be about ten days old by the time they go on sale in Jersey.

Before buying the business from Genuine Jersey member and neighbour Chris Le Masurier of the Jersey Oyster Company, Alan was freight manager for a shipping company. He was looking for a new direction, and he certainly found one - and on his own doorstep having lived next door to Happy Hens for 15 years.

Allan's eggs are about as free range as any egg can be. As Jersey has no predators such as foxes to threaten poultry, the hens don't have to be shut in at night like in the UK. They are free to pop in and out of their houses into open fields from first light to dusk or by the light of a full moon. It is this freedom to come and go as they please that makes for a better flavour.

Happy Hens eggs are all sold locally through the major supermarkets –Channel Islands Co-operative Society stores, Waitrose and Cost Cutter - smaller shops and farm shops. Allan also supplies wholesalers, restaurants, hotels and cafés by the tray.

With the Jersey Oyster Company next door, Allan has a ready supply of shells which are crushed and spread out for the birds to scratch in and forage as hens naturally do, as grit is essential for the hens digestive system. It also provides an additional source of calcium to help poultry to have strong bones and healthy feathers.

As the hens don't stop laying – even on Christmas Day – his job is 24/7, 365 days a year, though he employs three members of staff.
---