Hamptonne Farm Hens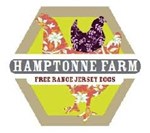 ---
Hamptonne Farm Limited is a small family run business based in the heart of Jersey's traditional countryside in the parish of St Lawrence.
Hamptonne Farm Limited is proud to be a member of the Genuine Jersey Products Association. Our aim is to provide excellent quality locally sourced free-range eggs.

What started as a hobby farm in the last decade has grown into a commercial enterprise to meet local demand for fresh free-range eggs. In 2010 we had 2,000 hens, this has grown over the past three years to 6,000 hens. We import Lehmann Brown Hybrid layers from a supplier in Romsey, Hampshire. The hens are 16 weeks old when they arrive and they begin lying eggs at around 21 weeks.

The hens are housed in large mobile insulated polytunnels that keep the environment at an ambient temperature all year round. The polytunnels have pop holes that are open to the field outside, allowing the hens to come and go as they please. A typical day for our hens begins at 5am when they wake, eat and drink from the constant supply of water. They then lay their eggs in the quiet sanctuary of the nestboxes. After this the hens are free to roam outside in the field or use the extensive scratching area inside the polytunnels so that the hens can do what they like to do best: have dust baths, dig holes and, in general, enjoy all the activities that make life pleasant for them.

We collect the eggs three times a day, these are then transported across the farm to the pack house where they are graded for quality of shell and weight of the contents. The eggs are then packed into cases by sizes, medium, large and extra large ready for delivery.

The company is grateful for the advice and practical help it received in setting up the business, from Jersey Enterprise, the States' Rural Initiative Scheme, Genuine Jersey, Acorn Finance and Terry Grimshaw, the designer of its labels and advertising materials.

Hamptonne Farm Free Range Eggs can be purchased from most local supermarkets and farm shops. We also supply some local cafes, restaurants, guesthouses and sandwich shops.
---