Haithwaite Ceramics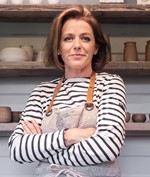 ---
Claire makes ceramic pots out of Jersey clay. The clay is gathered at very low tide in the bay of Grouville, near Seymour Tower. Her pots have a very sandy, earthy texture but are glazed with a contrasting very shiny smooth finish. They all have very simple, minimal, clean lines. "Making the every day beautiful."
She has a pottery studio/shed in her garden at her home in Grouville. Her pots can be seen on display in the window of 14 Gorey pier and purchased in her Grouville studio by Grouville church where she works.

Claire did a degree in Graphic design in Kingston, London and Falmouth, Cornwall. She has worked in London and Amsterdam where she lived for twenty years. Having moved back to Jersey she did a pottery course at Highlands and hasn't looked back.
---