Forge Farm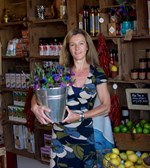 ---
Elise Stubbs of Forge Farm in the parish of St John is a small-scale flower grower and florist who specialises in growing English country garden flowers, wild flowers and herbs in her garden.
Forge Farm Genuine Jersey products are always seasonal as Elise works with flowers that bloom each week, usually starting from Easter through to the autumn for floral displays and during the winter for more ethereal twig-based arrangements. Elise also caters for the Christmas market with supplies of contorted willow and silver birch, sparkly winter branches, twigs with simple wreaths.

Forge Farm provides a bespoke wedding and event floristry service and Elise can be contacted for an initial, informal chat over a cup of tea at the farm.

Forge Farm flowers are always seasonal, local and buzzing with life and in an informal country style. Having a ready supply in her garden allows Elise the freedom to explore different textures and colours of the season, giving a unique relaxed style. Come the summer, when the growing season is at its most abundant and she is picking continually, Elise supplies The Fresh Fish Company on the Victoria Pier.

Forge Farm also grows and supplies flowers for other florists.

To ensure her garden is well-stocked for the next season, Elise plans ahead and come autumn you will find her planting lots of early spring bulbs to provide a lovely burst of fresh colour in the depths of winter and early spring.
---