Away With The Fairies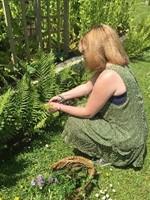 ---
I am a textile artist specialising in natural dyeing, eco-printing, spinning and embroidery and live in the leafy parish of St Peter. I love heritage crafts and spin wool to create a range of Jersey Fairies as well as other knitted and crocheted items.
I work alongside nature to create unique stitched, naturally dyed and eco-printed scarves, pictures, wall-hangings and garments.

As a natural dyer and eco-printer I capture moments in time and place. I love using leaves from my favourite places in Jersey.

The colours and prints left on fabric can never be replicated completely and are influence by many factors. Possibilities for prints are everywhere and I look out for opportunities wherever I go.

I try to work as much as possible with thrifted natural fabrics wherever possible and use natural dye for the threads for my stitched pictures too.

Spinning is another of my passions and as I have always loved fairies and fairytales it was only natural that I would create them from the wool I spin. My fairies start as bits of fluff before spinning them. I then add needle felted details and wings. Each one is unique.

My work is slow and mindful. In a busy world it encourages awareness and attention to detail both in the collecting and in the making. It fosters appreciation of the world around me and the gifts that nature provides as well as an opportunity to bring new life into preloved items.

---