Douet Farm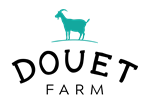 ---
Your Local Organic Goat Dairy! Laurence and Louise Agnès produce and sell a range of organic goat's milk produce, as well as kid meat and 100% grass fed lamb, from their farm in Trinity, which they set up from scratch in 2012.
Their artisan goat's milk products are all lovingly created by hand and include fresh milk, goat's cheese and goat's milk kefir. These are available online at www.douetfarm.com with free home delivery or from various outlets around the island.

Goat's milk is a wonderful alternative to cow's milk and offers many benefits including being easy to digest and causing less irritation, at the same time as repairing and protecting your gut.

Laurence and Louise are passionate about sustainable farming and ensuring that nothing on their farm is ever wasted. All the goat kids born at Douet Farm are raised, to either become mothers themselves or to be sold as kid meat which is a popular choice with foodies! The meat is available through a half-a-kid or half-a-lamb box scheme where the meat is butchered, wrapped and labelled and ready to pop in the freezer or eat straight away. The kid meat is also available frozen, in smaller packs of diced meat and kid burgers.

The couple are also strong believers in organic farming and have never put a drop of pesticide or artificial fertiliser on their land since owning it. The farm is certified organic with the Soil Association.

Laurence and Louise are proud to produce local, organic, sustainable (and delicious!) milk and meat for the local market.
---