Diane C Best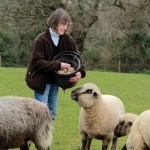 Diane Best
Le Pavillon
La Rue des Vaux de l'Eglise
St Martin
JE3 8ZJ
Telephone: 01534 855789
Email: berthafleet@gmail.com

---
Diane Best - who farms at Le Pavillon on the fringes of St Catherine's Woods in the eastern parish of St Martin - is one of the largest of Genuine Jersey's lamb producers.
A former psychologist for the Island's education authority, Diane's love of farm animals came about when she was evacuated from London to a small mixed farm in Devon in the Second World War.

She began by keeping cows, pigs and sheep 31 years ago. Today her flock comprises Hampshire Down, Shropshire and their cross breeds.

As welfare is of paramount importance to her, they are reared traditionally without growth promoters or routine antibiotics on pasture free from herbicides, pesticides and chemical fertilizers. Distant views of the Normandy coast provide a panoramic backdrop for the sheep grazing Diane's elevated fields.

Over the years, Diane has built up a loyal customer base of individuals, restaurants and shops. She sells the well-hung carcasses – whole or half - uncut or professionally butchered according to customer requirements. She also has breeding stock for sale.

Centuries ago the Island had its own breed of sheep but it is now extinct. The closest surviving relative is the Manx Loaghtan which was introduced to the Island in 2008 by the National Trust for Jersey for the purpose of coastal grazing, a traditional method of vegetation control on the north coast.

Sheep farming died out in Jersey after the German Occupation of the Second World War and it took many years before the regulations preventing the importation of farm animals to protect the Jersey Cow, were relaxed.

Today, sheep can be seen in almost every parish. Not only do they provide fresh quality lamb for local consumption, they add variety to the delightful countryside.
---