Crafty Quilters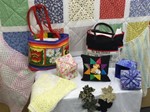 ---
About me Jenny Norman. I have been crafting since I was a young child, two of my Auntie's were very crafty so it's in my blood. I'm so passionate about crafts it's now an obsession. I want to share my passion with everyone. I sleep, dream and breathe fabric colour and design. I think my best ideas have come to me in dreams. You'll never see me out and about without some sort of a project in my handbag. I just love sewing.
Crafty Quilters - The Secret Sewing Shop

I make various items such as crochet baby blankets, bags, fabric boxes, quilts, curtains, upholstery and many other items to raise money for different charities. So if you are looking for a gift follow us on Facebook or www.craftyquiltersonline.com

As I also have a little passion for cake making I am regulated by Jersey Public Health Department and have been awarded a FIVE Star Eat Safe Jersey rating in food safety and hygiene standard.
---