Cookie Crew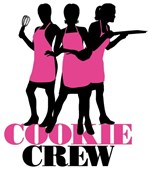 ---
Mel Le Tarouilly is the founder of Cookie Crew, an artisan cookie and cake producer based in St Ouen. With a passion for baking and a flair for art and craft, Cookie Crew has provided an excellent way to combine the two talents. All their cookies and cakes are prepared, baked to order, and iced in Mel's lovely kitchen in St Ouen.
"Initially, we started making biscuits for our children to decorate in preparation for a Halloween party, and quickly realized we had just as much fun icing them as they did. Early last year we made our first cookie bouquet for a friends 40th birthday party – a French theme, and we were so pleased with the results we decided to see if there was a business in it. Since then, we have produced cookie bouquets for every occasion – from Weddings and Christenings, Mother's and Fathers day, any celebration you can think of – and of course they are very popular for children's parties too."

All cookie bouquets are baked to order – a lead time of 5 working days is preferable but not essential for standard bouquets although it is advisable to pre-order further in advance for "peak" times.

You can contact Cookie Crew via the link on their Facebook page "Cookie Crew Jersey" or email them direct from the website www.cookiecrewjersey.co.uk or by telephone on 07700 342 627. Small bouquets start from £24.00.
---