Colin Roche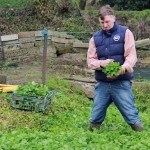 ---
Growing up in Liverpool, Colin Roche never imagined that he would end up make a living growing watercress less than 20 miles from the French coast.
Today, he is the Island's only commercial watercress grower, supplying the major supermarkets, all local food wholesales, individual shops, stall-holders in Jersey's stunning Victorian Central Market, restaurants and hotels for ten months of the year.

Watercress couldn't have been further from his mind when he arrived in Jersey for a long weekend 36 years ago. Colin never went home for good and started to make a living as a gardener before watercress began to loom large in his life.

Not only is he a one-man operation, he also picks his crop by hand – and that makes for back-breaking work when you consider that at the peak of the season he supplies the Island with 50 cases a week and that each case holds 20 bunches.

Watercress is a real 'super food' as it is packed with iron, calcium and folic acid, in addition to vitamins A and C. It certainly does Colin a power of good judging from his chirpy Scouse persona, though the job can have its off moments such as on a bitterly cold winter's day when the water is freezing cold and the east wind blows.

Colin's very unusual 'farm' is tucked away in a labyrinth of winding narrow lanes in St Martin that even locals get lost in. It covers three vergées of an old quarry and meadowland and the two beds are fed by crystal clear underground springs with a constant temperature of 10ºC – which makes for ideal growing conditions.
---