Christine Witham Textile Jewellery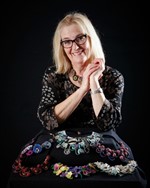 ---
Christine Witham is a local artist, best known for her beautiful textile jewellery, created from felts and luxury fabrics. She sews, paints, sculpts and fashions her items of jewellery using techniques she has developed and adapted over many years to maintain the high standard of traditional craft work.
Christine's work is very distinctive. Her statement necklaces represent many hours of careful labour and are real works of art. She also makes smaller pieces that are affordable and different, including fairies and robins at Christmas and seagulls in summer.

Christine says: 'In all my work I hope to achieve quality of craftsmanship, originality, and of course to delight and to inspire.'

Christine studied embroidery at Goldsmiths College and at The Central School of Art, and taught for some years in both UK and Island schools.

She continues to teach both children and adults by running creative workshops at The Harbour Gallery, and works for EYECAN, formally The Jersey Blind Society as an arts therapist. Christine is also an approved Women's Institute tutor.

Christine's work is always available at The Harbour Gallery, sometimes at the St Aubin or Royal Square Farmer and Craft markets and at other seasonal events.

Christine works predominately for the local market, though her work can be found in the UK at the Ropewalk Gallery, in Barton-upon-Humber.

---