Chocadyllic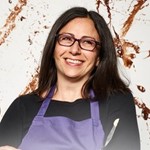 ---
Chocadyllic is a small chocolate business based in St Helier. It is the creative outlet for Evelyn Day, a chocolate artist who creates wonderful unique sculptures and chocolate products by hand using the finest Belgian couverture chocolate. Inspired by her love of art, architecture and travel she brings joy to chocolate lovers everywhere for celebrations, events and all occasions.
Evelyn has been passionate about chocolate all her life and has found a way to translate that passion into (incr)edible art! She featured on three episodes of Channel 4's Extreme Chocolate Makers (available on Netflix). She was filmed for Channel 5's documentary "The Wonderful World of Chocolate" for a commission for the Royal Pavilion in Brighton.

She is proudly a Genuine Jersey member. Her signature chocolate indulgence cake is full of delicious chocolate, light and moist, and not too sweet. It is a Genuine Jersey product as it is made using Jersey eggs and delicious Jersey dairy. Evelyn is constantly creating new products and chocolates such as boxes of decadent handmade chocolate truffles and novelty chocolates for all seasons.

Evelyn also creates unique and bespoke chocolate creations to commission. Clients visit the Chocolate Studio and over a hot beverage and with mountains of chocolate to enjoy, they get to design and discuss their very own creation. Smaller unique chocolate pieces are also made to commission and make wonderful gifts.

Evelyn sells her chocolates at various events throughout the year – please follow Chocadyllic on Social Media for up-to-date information. Her chocolates are available to buy from the Chocadyllic website, Trading Point and Homefields Farm shop. Contact her by phone, email, social media or via her website for your own chocolate delights and enquiries. She'd love to hear from you!
---