Catia Teixeira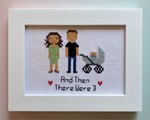 ---
Cross stitch is one of the oldest forms of embroidery as it has been around since the Middle Ages and is used as a staple of tradition all over the world. The creator behind Nine By Five Cross Stitch learnt the craft at an early age and has always found the intricacy of the hobby therapeutic.
Nine By Five wanted to take her talent up a level by modernising the designs to include elements of feminism, hashtags and showcasing family portraits in new and innovative ways. All of her designs are completely bespoke and specific to her clients. This artisan craft has most certainly been developed into a beautiful blend of old transforming into the new.

As Genuine Jerseys first cross stitch member, Nine By Five Cross Stitch is excited to create you something unique and diverse. Have a look!
---