Cathryn Ward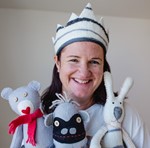 ---
Cathryn Ward of Skaapie has been felting, designing and hand crafting products for the past 11 years. Although her skaapie journey began in South Africa, she has been living in Jersey for the past 6 years and her love of the Island is reflected in her range of products which include Jersey themed baby mobiles and toys.
Her style varies from a fun and quirky range of children's toys, mobiles and accessories to a more contemporary style of throws, cushions and wearable art. Most of her inspiration is drawn from nature and can be seen throughout her themes, such as nautical, woodland, jungle or botanical themed mobiles.

Each item is original as Cathryn makes and dyes her own felt. She also designs her own patterns, so loves taking on unique commissions, anything she can draw, she can make and often gets asked to personalize items for new baby gifts, birthdays or even teacher gifts. She has recently also started experimenting with natural dyes which brings together her love of textiles with her love for foraging.

One of her most popular items is her advent calendars which are a large wall hanging with a tree and 24 pockets, with a handmade item to hang on the tree every day of December leading up to Christmas. These can be in traditional or natural colours and she hopes these will become a family heirloom to be passed on to future generations.

Cathryn also does workshops in schools or craft parties where she teaches kids to do felting with fun age related projects, please enquire by email if interested.

She sells her work throughout the year at events or through social media via her facebook and Instagram pages.
---