Campbells Logs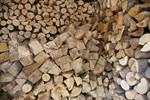 ---
Campbell Cox has spent most of his working life outside in the Jersey countryside. Here he tells us more about his decision to launch his own business this summer, cutting up fallen trees and drying out logs so they are ready to be used as firewood, and ensuring that he can continue to work outside instead of in an office.
My name is Campbell Cox, I started my own business - Campbell's logs and Services - in August 2014, but have been working with logs for at least the last 10 years. I used to work at AmalGrow where cutting up wood was part of my job. I used the excess wood from fallen trees for the log fire and was soon supplying friends and family, which made me think that this may be a business opportunity. Working for AmalGrow also made me see the benefit of being part of the Genuine Jersey Products Association.

After AmalGrow I worked for Albert-Bartlett and was involved with Jersey Royal production for four years. I found myself spending more and more time in an office, but wanted to be outside so it seemed the right time to take the plunge and start my own business. I don't have a typical working day as each day brings something new, which is just what I wanted.

My unique selling point on Jersey is my Hakki Pilke wood processor. As far as I am aware this is the only one on Jersey. This is the backbone of my operation and makes light work of the hardest wood. The machine takes a length of wood, saws it and then splits it into logs, all in one simple operation. All my logs get stored under cover for at least a year. They all get stacked in the sheds and air dried so that when I come to bag them they are all nice and dry and ready for the fire. Depending on the time of year, bagging up the logs takes some time. I am lucky enough to have a covered area where I can store my bags dry, this enables me to bag ahead.

As much as possible I use fallen trees rather than cut any down, although if one does need to be cut down then I can do that as well. I have passed my NPTC chainsaw course in felling small trees. Several contacts in both the agriculture and building industry know I will take trees away for them and they have kept me supplied with wood as well.
I supply several small farm shops, Didier Hellio (Manor Farm), Darren Quenault (Classic Herd Farm Shop), Rondels Farm Shop and Steve Carter at Farm Fresh Organics. Just recently I have picked up Falles Garages as a customer but am always on the lookout for more retail outlets. Direct supply through my Facebook page is possible, from bags to trailer loads.

Keep up to date with Campbell by following his Facebook page Campbells Logs and Services.
---