Blanc Pignon Dairy Farm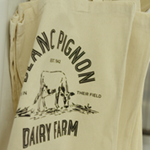 ---
Blanc Pignon Dairy Farm started business in 1942 during the occupation of Jersey. The Herd moved to the premises at Brookfield Farm in 1952 and then into the new purpose built buildings in 1968, where they still currently reside.
After many years of proudly supplying Jersey Dairy, with their kind permission, we decided it was time to add something new to our Farm, making a small range of artisanal Dairy products. We launched this in June 2021.

All of our milk is from our own beloved herd of Jersey Cows; and the milk we use for all of our products is Pasteurised, but is not Homogenised

There are a range of products that we have launched, with others coming soon, which include:

6 flavours of Gelato
Moolloumi Cheese
Shankleesh Cheese
Natural Greek Yoghurt
Kefir (Natural or flavoured)
Unique flavoured butters
Macarons.

These all come with Genuine Jersey accreditation, which we are very proud of.

We aim to use locally sourced products where possible including Jersey Sea Salt, freshly grown herbs and garden Mint and locally produced Black Butter.

Our packaging, on the whole, is sustainably sourced and recyclable or compostable.

We produce fresh and high quality local products, which we are extremely proud of, and this is done using food metres not miles as our processing unit is only 72 metres from where we milk our cows.

You can currently find our range of products locally at Lucas Brothers, Classic Herd Pet Shop, Midland Stores & Anneville Farm Shop.
---