Belles Fleurs Garden Consultancy & Plant Supply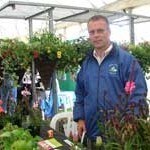 ---
Bernard and Martine Rebours of Belles Fleurs Garden Consultancy & Plant Supply have over 40 years experience in designing gardens, growing and supplying Genuine Jersey trees, shrubs and bedding plants, and have built up their excellent reputation in garden design.
Many of Belles Fleurs' prize-winning hanging baskets and floral displays can be seen and enjoyed throughout the island, namely on the parish halls, major hotels and private gardens. Bursting with colour, these displays have given Belles Fleurs a first-class reputation, for not only their plant supply, but also their creativity and ability to make any space look beautiful.

A Jersey family business, Belles Fleurs grows a large variety of Genuine Jersey plants on site, including summer and winter bedding, herbaceous, perennials and shrubs, in specialised tunnels and greenhouses. They also supply a wide range of trees, from young whips, to large mature trees.

Now in its fifth decade of trading, Belles Fleurs is moving with the times, by shutting the doors to their retail shop, and have begun taking orders via telephone and email for plant supply and garden design. Bernard meets with clients to consult on a wide range of gardens and gardening schemes, from smalls home gardens, to large private gardens and landscapes, to new building development sites.

For any enquiries, please email belles.fleurs@hotmail.com or call Bernard on 07797 719817 or 852483, Monday to Friday, 8:30am to 5:00pm.
---