Annies Pots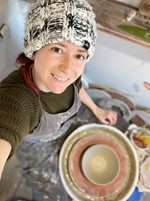 ---
I'm Annabelle Flambard, the potter behind Annie's Pots. My husband gifted me a course of pottery lessons at Highlands a few years ago, and I was hooked from my very first session!
I now have a small studio at my home in St Brelade, where I make my pottery. I focus mainly on wheel thrown functional items using stoneware clay, but I love exploring and experimenting with clay so am often trying out new ideas.

I'm drawn to contrasting colours and textures, and I aim to make my pottery pleasing to touch and hold as well as to look at. Glaze melts into a liquid state in the heat of the kiln, and I try to capture that flow and movement and preserve it in my pieces. I layer multiple glazes so that colours run together, creating intricate patterns with incredible depth, each one completely unique so that no two pieces are ever the same. Drips are frozen in time as the kiln cools and the glaze transforms into its final, solid state.

Mugs and tumblers are my favourite forms to make. Taking time out for a brew is a daily ritual for many of us. It's our everyday self-care, our routine me-time, and a beautiful handmade mug can really enhance that. Curved surfaces fit snugly into the hand, topped off with a comfy thumb rest. Contrasting textures and smooth, three dimensional glaze drips invite you to run your fingers over them. A beautiful mug can add a spark of joy to your cuppa, and that's what I want anyone drinking from one of my mugs or tumblers to experience.

I post regular updates on my work on my Instagram and Facebook pages, and will be popping up at a number of the Genuine Jersey markets throughout the year. My work is also available to view by appointment at my home studio in St Brelade, so do get in touch.
---