A Little Bit Of...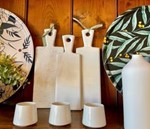 ---
A Little Bit Of… (ALBO) designs and manufactures a range of innovative and practical solutions for the home and personal use.
Reuse – Recycle - Repurpose
A Little Bit Of… products are made from commercial materials that historically would have gone into landfill or the incinerator. ALBO's products utilise offcuts of Corian/Starton, solid surface material that are used in the creation of bespoke kitchens & bathrooms worktops. This ecological and sustainable approach to reusing, recycling and repurposing is at the core of A Little Bit Of… designing and making philosophy.

It is not what it is, but what it could be…!
A Little Bit Of…manufactures a range of boards and platters for the preparation and serving of food. Easy to clean, one additional benefit of being made of a solid surface material is that they can be put into a fridge or freezer prior to serving and will maintain that temperature longer. Ideal for serving cheeses, charcuterie and fruit.

Food preparation and serving
The "A Little Bit Of…" range of Charcuterie boards, Chopping boards, Cheese platters, Tapas boards (with or without handles) and coasters are available in an infinite variety of shapes and sizes. In addition to making and selling rectangular boards and platters, circular, oval and heart shaped designs are available. They can also be customised to meet specific needs and/or themes and season. 2021 saw the introduction of two seasonal focus platters, one in the shape of Christmas trees and the other a Holly leaf. For Valentine's day 2022 "A Little Bit Of… created two heart shaped platters that could be joined together.

The "Heart of Wellbeing" keyrings
Each keyring is handmade from an offcut of solid surface material. In addition to being an extremely useful product, they are very tactile, durable and available in a wide range of sizes and colours. They make an ideal gift for someone special or as a unique wedding favour that is a reminder of that special day and will be treasured and used.

Jewellery
The Heart of Wellbeing keyring can easily be detached and attached to a chain to form an attractive and unique necklace.

Fun illumination
A Little Bit Of… produce a unique range of tea light and candle holders. The "Diamond" holder is lovely. It can be used on its own, but really comes to life when paired with two others. The diamonds can be positions side by side or along the length of a table or mantel piece. Alternatively, three diamonds can be pushed together to make a singular feature such as a hexagon, arrow or a crown. Add more and the shape possibilities multiply. e.g. With six it is possible to create two crowns or a six-pointed star.
---