Ali Artology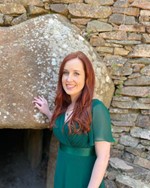 ---
I'm Ali, a local artist who is inspired by Jersey's amazing natural and historic environment.
My work is detail-orientated, both in the way I like to be inspired by small things (such as insects and plants) and that I like to try and cram details into my work. I believe that details are what gives my artwork texture and life.

I work from my tiny home studio (or is it a cupboard?) in St Helier, luckily my pieces tend to be quite small and don't take up a lot of space. However, the number of rooms in my house which are being taken over by art is slowly increasing…

I took art A Level but for my degree, I chose Archaeology, which included studying Archaeological Illustration. Archaeology and history continues to fascinate me and still influences my work today, as do the techniques I learnt while studying Archaeological Illustration.

A lot of my work combines ink illustration with watercolour painting. The pen and ink I use is made by Rotring, a German manufacturer of technical pens (often used by architects for very precise work). The pens contain a re-fillable ink well so they are not disposable plastic, which is very appealing. For the watercolour layers, I use a variety of makes of watercolour including Kuretake, a Japanese brand with especially vivid colours.

When drawing I often favour a stippling / dotwork technique as you can create natural textures and detail. As you will see, each illustration contains thousands of dots!

Please stay tuned to my Instagram for all my latest projects and where you can find me.

My work can be purchased via my Etsy shop and is stocked locally at JM Emporium at First Tower.

---