Aida de la Herran Jewellery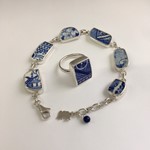 ---
Aida is a proud member of Genuine Jersey. She designs and makes sterling and fine silver jewellery by hand from scratch, using traditional silversmithing techniques, at her studio in St Saviour, sometimes complementing her pieces with semiprecious stones, pearls, or pottery found around the Jersey beaches.
She was born and raised in Jerez de la Frontera in the south of Spain, and studied Biology and Fine Arts with concentration in Sculpture in Mount Saint Joseph University, USA.

'Jewellery is a miniature form of sculpture to me, and the advantage is that you don't need a massive space to work in, unlike sculpture. But the tools can be quite specialised and expensive.

My jewellery is mostly inspired by nature and from taking long walks around Jersey with my doggie Simba, which help me come up with new design ideas.

I especially love incorporating the bits of pottery found on the Jersey beaches; every time I find bits of pottery or get given them, I feel like a child in a candy shop...'.

Aida's style is quite simple, organic and unique. She started working from a long and narrow lean-to by her garage and now has moved into the garage in order to accommodate all her different projects, be it jewellery, sculpting or building objects.

On the island, her work can be found at the Harbour Gallery in St Aubin and Jersey Oak in St. Martin.

Visitors are always welcome to her studio prior appointment. You can visit her website at www.aida.je or contact her on 07700888999 for more information or bespoke commission work.
---