Acorn Enterprises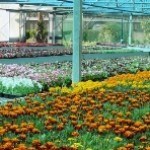 ---
Acorn Enterprises offers one of the largest selections of plants in the Island year-round. New varieties are introduced every year along with established favourites like geraniums, begonias, petunias and trailing plants.
Come and look at our excellent selection of shrubs and herbaceous perennials as well as herbs, vegetables, fruit bushes, climbers and exotics.

All our plants are grown on site and we also offer free advice on planting schemes. Our qualified and experienced manager Daniel Cunningham is always available for an informal chat. See our website for opening hours.

We supply bedding to award-winning prestigious parks in Jersey, including Coronation Park, Howard Davis Park and the Sir Winston Chruchill Memorial Gardens. We have an ever-growing loyal and satisfied customer base, built on our reputation for competitively priced premium quality products.

Acorn Enterprises, based on a large site in Trinity, also comprises Acorn Reuse and Acorn Woodshack. The Woodshack, now a zero-waste operation, recycles and upcycles waste timber and staff there can create bespoke items such as tables and bookshelves. We can also provide personalised wooden signs. Just give us a call to discuss your needs.

Acorn Enterprises comes under the umbrella of the Jersey Employment Trust, a charitable organisation whose aim is to empower and facilitate people with a disability to gain and maintain employment through training, education and ongoing support.

---