Acorn Enterprises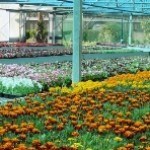 ---
Acorn Enterprises offers one of the largest selections of summer bedding in the Island.  New varieties are introduced every year along with established favourites like geraniums, begonias, petunias and trailing plants.
Come and look at our excellent selection of shrubs and herbaceous perennials as well as herbs, vegetables, fruit bushes, climbers and exotics.

All our plants are grown on site and we also offer free advice on planting schemes.  Our qualified and experienced manager Daniel Cunningham is always available for an informal chat. See our website for opening hours and prices.

We provide an award-winning hanging basket service to both private and commercial customers. Baskets, window boxes and planters are made to order or come up and choose from our ready-made selection.  We also offer a competitively priced garden maintenance service to homes and businesses, available on a regular or one-off basis.  Call Daniel to discuss your requirements.

We have an ever-growing loyal and satisfied customer base, built on our reputation for competitively priced premium quality products. Our well-trained workforce is dedicated to providing customer satisfaction.

Acorn Enterprises was originally created as a 'sheltered employment scheme'. It comes under the umbrella of the Jersey Employment Trust (JET), a charitable organisation, whose aim is to empower and facilitate people with a disability to gain and maintain employment through training, education and on-going support.
---